Philadelphia Oil Refinery Fire Set Off Explosions Felt For Miles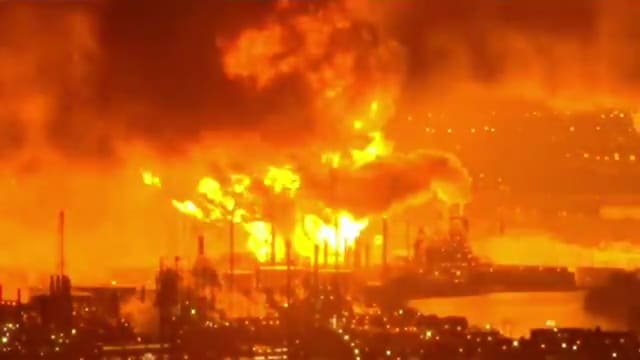 Philadelphia Oil Refinery Fire Set Off Explosions Felt For Miles
Fire in a butane vat at a Philadelphia oil refinery complex dating back to 1869 turned the sky a terrifying mix of yellow and orange and awakened residents with a series of explosions they felt in their homes for miles Friday morning.
The fire began at the Philadelphia Energy Solutions Refining Complex at 4AM. Firefighters arrived at the scene had the dangerous blaze contained but not under control by 7AM.
Air Management Services reported that it was on the scene immediately after the explosions and took air samples. Tests are being run on the air samples taken at the scene and the interpretation of the results is expected to be made public as soon as it is available.
The 150 year old refining complex is the largest on the Eastern Seaboard of the United States, producing more than 330,000 barrels of crude oil each day. This blaze was the second at the factory in only eleven days.
The inhalation of smoke from a dangerous fire can pose a serious risk of injury or death to any person who is living or working near the blaze. If the fire was caused by the negligence of a person or the negligence of a corporation, you may have grounds for a personal injury case.
If you are suffering from injuries caused by smoke inhalation, contact Action Legal Group today for a free consultation to review your options and begin building a strategy for your case.